Job Description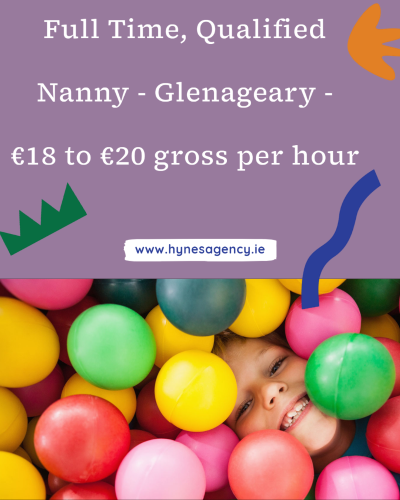 We are looking for a Full Time, Qualified and experienced Nanny to look care for this lovely family:
Girl aged ten years old
Boy aged seven years old
Boy aged one year old
DUTIES:
Dropping and collecting to and from school.
Supervising and assisting with homework
Responsibility for the complete care, wellbeing and safety of the baby.
Carrying out age appropriate games and activities with the children.
Taking them out for walks, to the park, to the playground, to playdates, etc.
Cooking nutritious snacks and meals.
Tidying up the play areas
Laundry for the children only
Hours: 8am to 5.30pm Monday to Friday
Approx. salary and benefits:
€18 to €20 per hour - This depends on the experience of the individual
Excellent Terms & Conditions
Reimbursement of out of pocket petrol/diesel expenses
If you believe you're the right fit for this lovely family, please send your CV to info@hynesagency.ie
We look forward to hearing from you.