Job Description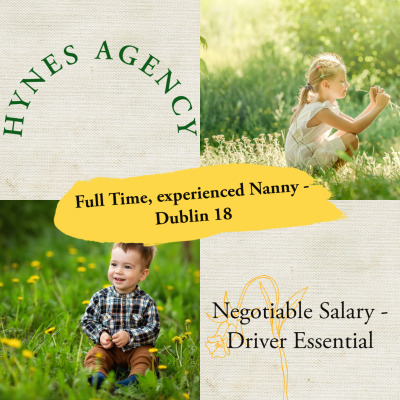 We are looking for a full time, kind, caring, experienced Nanny to look after two children:
Boy aged three years
Girl aged fifteen months
DUTIES:
Monday to Friday - 7.30am to 4.30pm
Feeding the children pre-prepared breakfast and lunch.
Taking the children on walks, to the park, to the playground, etc.
Following an excellent routine in relation to naps and feeding.
Reading stories, doing puzzles and jigsaws, playing age appropriate games to stimulate their development.
Dropping and collecting the little boy to and from Montessori School.
Ensuring the care, safety and wellbeing of these lovely children at all times.
Approx. salary and benefits:
Salary is negotiable and is totally dependent on experience and/or qualifications.
Excellent Terms and Conditions.
If you believe you're the right person for this lovely family, please, send your full CV and the contact details of your Referees to info@hynesagency.ie
We look forward to hearing from you.