Job Description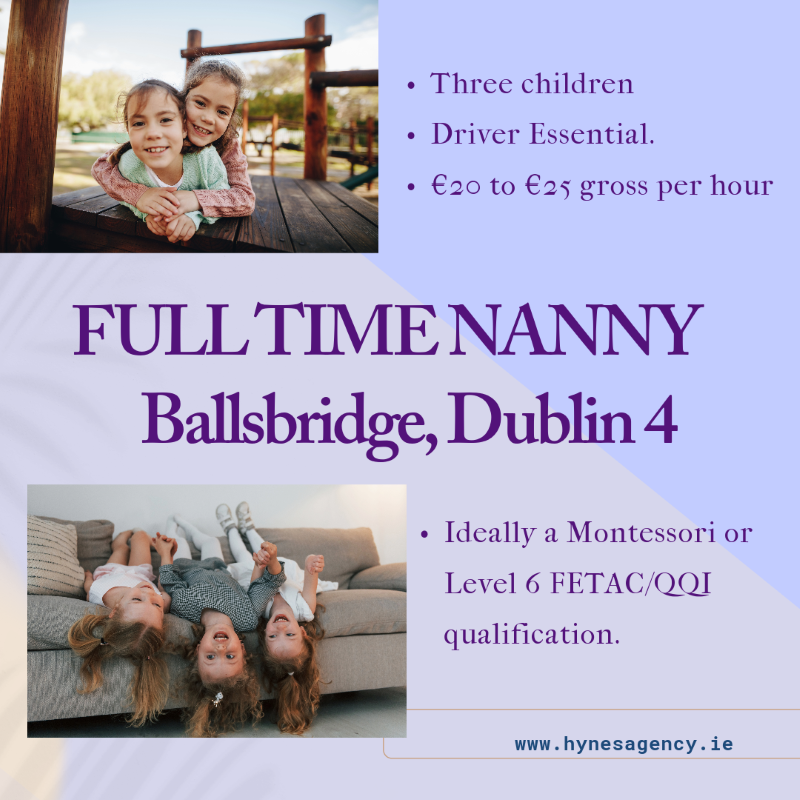 A lovely family with three girls (twins aged six and their four year old sister) are looking for a kind, caring and professional Childminder.
REQUIREMENTS:
Ideally, a minimum of three years childminding experience in a family setting, a creche, Montessori, etc., with at least two years in the same job.
Excellent References.
Fluent English.
A full, clean driving licence and own car.
Ideally a FETAC/QQI Childcare qualification up to at least level 6 or a Montessori Qualification.
Ideally someone who is happy and willing to travel with the family and who would consider occasional babysitting.
DUTIES:
Monday to Friday - 48 hours per week.
Looking after all three children, taking care of their daily requirements, including meals, snacks as necessary, school runs, etc.
Managing the weekly schedule, ensuring school activities are planned for and coordinating all extra circular activities including sports, music and art classes.
Assisting with and supervising homework.
Some cleaning and laundry including tidying the children's bedrooms and play areas, tidying the kitchen after preparing meals and helping with the children's laundry.
Organising and hosting playdates.
Approx. salary and benefits:
€20 to €25 per hour.
Motor Expenses reimbursed.
Excellent Terms and Conditions.
To be considered for this position, please send your full and complete CV and the contact details of all your Referees to info@hynesagency.ie
We look forward to hearing from you.