Job Description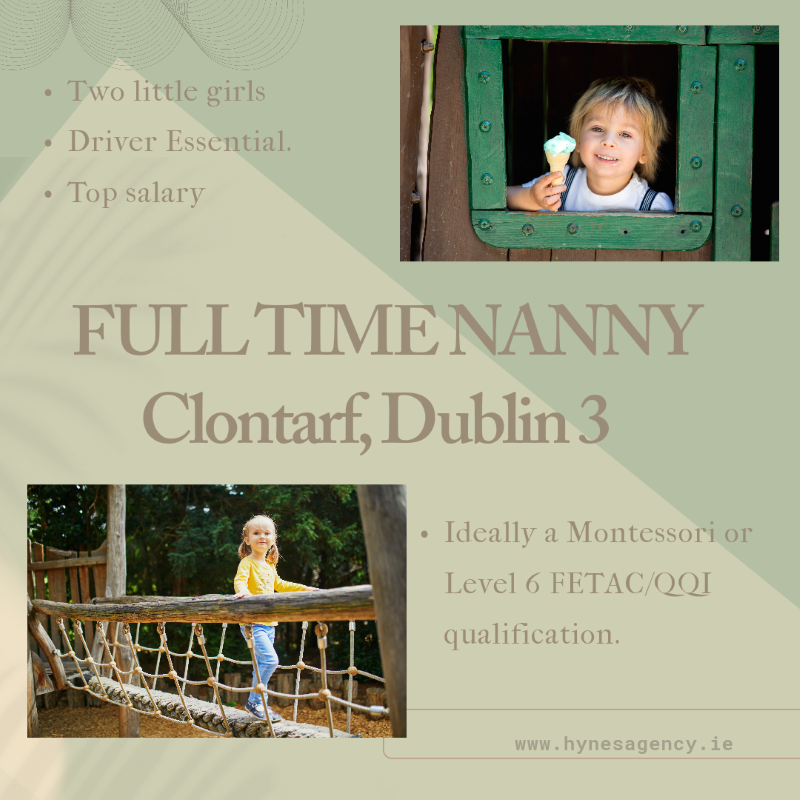 We are looking for a kind, caring, experienced and professional Nanny to look after two little girls aged three and five.
REQUIREMENTS:
Ideally at minimum of three years' Nannying, Childminding, Creche or Montessori experience with at least two years with the same employer/family.
Excellent References.
A full, clean driving licence and own car.
Fluent English.
A Childcare Qualification up to at least QQI/FETAC Level 6 would be preferable. A Montessori qualification would be ideal.
Up to date paediatric first aid would be an advantage and the five year old has asthma.
DUTIES:
Monday to Friday - 9am to 6pm
Sole charge position.
Preparing healthy and nutritious snacks and meals.
Planning and carrying out a wide range of age appropriate indoor and outdoor activities for both children.
Housework in relation to the children only.
Organising and hosting playdates.
Assisting with homework.
Approx. salary and benefits:
Top Salary - totally dependent on experience.
Excellent Terms and Conditions.
Use of Nanny car.
If you believe you're the right fit for this lovely family, please send your full CV to info@hynesagency.ie
We look forward to hearing from you.