Job Description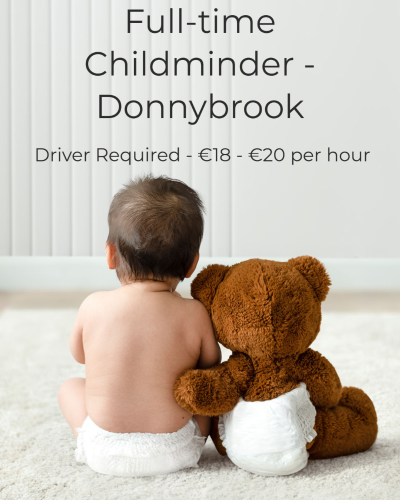 We are looking for a kind, caring Childminder to look after four children:
Twins aged eight years old
Girl aged six
Girl aged three
DUTIES:
Hours: Monday to Friday - 9am to 6pm
Collecting the children from school and Montessori as well as any after school activities, sports, play dates, etc.
Light housekeeping in relation to the children only including tidying up the play areas and the kitchen after meals and snacks.
Encouraging the children to do their homework.
Preparing tasty snacks for the children.
Carrying out a range of age appropriate indoor and outdoor activities and games with the children.
Children's laundry.
Approx. salary and benefits:
€18 to €20 per hour gross.
Motor Expenses.
Health Insurance and access to Pension
Excellent Terms and Conditions
If you believe you're the right fit for this lovely family please send your full CV and the contact details of your Referees to info@hynesagency.ie
We look forward to hearing from you.